ATTENTION! 100% FREE – New 16-page PDF Download
"10 Ways to Make $10 in 10 Minutes"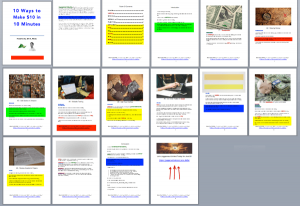 — — — — —
If you're going to invest into your Roth 401K then I suggest you watch these videos. They are short and extremely useful if you're just getting started.
Stocks or Mutual Funds in My Roth IRA?
And…
4 Roth IRA Investing Hacks
4 things you NEED to know before opening a Roth IRA
— — — — —
You know, they say "it takes money to make money" and there's some truth to that. So, if you want to put more money into your retirement (or pay down your bills first, or load up your emergency fund, or wipe out credit card debt), the start making money. You can do it pretty fast, and gain real traction!
100% FREE – New 16-page PDF Download
"10 Ways to Make $10 in 10 Minutes"